October to March-2020-2021
LEARN THE LANGUAGES OF BODY WISDOM AND CREATIVITY
FOR SPIRITUAL FORMATION with
Cynthia Winton-Henry, Cassandra Sagan, and Annie-Rose London
2 online retreats, 10 online workshops, One Coaching Session.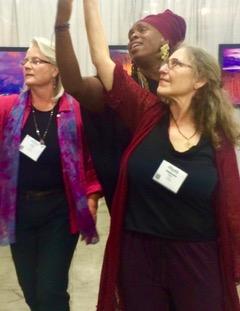 Opening & Closing Retreats October 19-22, 2020 and March 1-4, 2021 • 10 online weekly wisdom teachings (Wednesdays 3-5 pm PST) with One Individual Session
An in-depth training for spiritual leaders on body wisdom and creativity
in personal and group spiritual life.
Join a community to integrate body and soul for healing, prayer, speaking, discernment, celebration, justice-making and ritual. Increase fluency in the languages of the soul: moving, voice, word, stillness. Enjoy time for fun, reflection, conversation, and easy-going community. Affirm what your body knows as intrinsic to your spiritual intelligence. Open to Spirit and Mystery!
Why Body Wisdom? Physicality is Basic: It's a big shift to put the body back at the center of spiritual intelligence–not unlike putting Earth back at the center of what we value. Racism, gender, class, ability, politics, religion, climate change, animal care, and culture are all body realities. How we honor and affirm every body as distinct and part of a distinct community is key to living in peace. Do we honor our bodies?

We can unlock the wisdom of body and soul for
• More fluid access to the arts to connect to self, others and the Divine.
• Deeper connection with earth, people, and spirit.
• Powerful resiliency techniques.
• Improvisational skills for working with complex situations.
• New skills for speaking and presenting.
• Take-away art forms for bedside, one to one, small and large group rituals.
• Community building tools that empower marginalized people.
• Techniques for building intergenerational bonds with children, youth, and adults.
I have taken hundreds of people on this journey. Some say it changed their lives. Reverend Mike Ellard said, "It was how he hoped all of seminary would be."
InterPlay helps us open wide to diverse traditions and strengthen our particular faith journey through the inclusive languages of the arts.
Why the Arts? The wisdom of body and soul flows through different channels. If we only use one channel, words, for instance, we don't have full communication with self, others, or the Divine. Open up the channels and some say soul comes alive. Keep them closed and some say we are prone to soul loss. Ask first peoples why it is important that they need to dance, sing, and pray the way they do. Is it time to open up to receive the full wisdom of the body?
Now You Can Take The Journey!

Our opening Retreat is the Secrets of InterPlay for Embodied Spiritual Formation. With time to explore the balance of creative practice and wisdom teachings, the journey unfolds through elegantly crafted exposure to movement, voice, story, and stillness which offer parables of wisdom.
Learn tools that help people orient to the wisdom of their body: Easy Focus, Body Data/Knowledge/Wisdom, Internal Authority, Physicality of Grace, Exformation, Spiritual Disciplines, Incrementality, and Affirmation.
Gather into grace, ease, and spontaneous health where body and soul yield refreshment, connection, and guidance. This workshop uniquely introduces you to
• The Soul Loves The Body: Recovering our Soul Languages
• Our Bodyspirit as Bigger Than Our Skin
• Spontaneity as A Signature Of Soul
• Transformation as A Creative Process
• The Architecture of Soul as Bigger Than One Body
• Different Art Forms Create Different Results
Next share eight online wisdom trainings (two hours each). During each interactive, live, video session, participants explore playful body wisdom around aspects of the creative spirit, the art of truth-telling, the nature of being body intellectuals, how to play with challenge, healing and wholeness, and how to encourage creative offerings of prayer and service in others.
In addition, receive three focus sessions, 2 in group and one in person, over the course of the program. InterPlay mentors support you to explore InterPlay tools for personal and spiritual development as you incorporate movement, voice, and storytelling.
The Closing Retreat is on "The Art of Collective Peace-making and Ritual."
Having formed bonds of play and deep story, we explore creativity and body wisdom in a way that opens new vistas for communal life. What does it mean for peace and for community soul to be embodied? The retreat concludes with a graduation and celebration.
Cost: $2250 plus room and board costs for the two retreats. Payment Plans are available.
Registration/Information: Body Wisdom, 510-465-2797 or info@interplay.org.
About Cynthia: As co-founder of InterPlay with Phil Porter, I've developed somatic curriculums to address racism, leadership for the Earth, and spiritual leaders with an eye to supporting millennials and people of color. I've been a featured speaker on the Body Intelligence Summit online series and a recent keynoter at the International Expressive Arts Therapy Association, and Art Religion and Culture conference. Books include What the Body Wants, Having It All: Body, Mind, Heart & Spirit Together Again at Last, Dance: A Sacred Art: Discovering the Joy of Movement as Spiritual Practice, and Chasing the Dance of Life: A Faith Journey, on attuning to the wisdom of the body radicalized my relationship to my faith and worldview. I'm currently writing on "Ensoulment," as I coach leaders seeking spiritual intelligence who want to be grounded in the body, for our time.